Shining A Bright Light On Rabies In Haiti
HEALTH & PROTECTION
17 Feb, 2020
READ 6 minutes

Hunter Doherty "Patch" Adams, a physician, social activist and author, once said, "Humour is the antidote to all ills." Humour does have a way of helping people relax and open up through shared laughter. The result is a deeper connection and engagement, and this often helps people understand and talk about things with a bit more ease and understanding. This is especially true of topics that may be difficult to understand, like rabies.
There is a comic book character in Haiti named Ti-Joël who is helping children understand the threat of rabies, along with how to properly treat and care for bite wounds. It may seem odd to use a comic book character to lead such a weighty discussion, but Ti-Joël is somewhat of a superstar in Haiti for children and adults. Ti-Joël is the brainchild of brothers Jud-Alix and John Francois of Ayitikomik studios. He made a significant impact in 2011 when the United Nations Educational, Scientific and Cultural Organization (UNESCO) employed him to teach Haitians how to combat the effects of cholera after the earthquake. Haitians immediately embraced Ti-Joël and his messaging. He connects with people on a deeper level because he speaks their language, literally and culturally. He speaks Haitian Creole, instead of French, which is the language of education in Haiti.
Haiti is one of the few countries in the Americas that continues to have a problem with rabies. It has the highest rate of deaths from rabies in the western hemisphere. Although numbers are difficult to establish accurately, roughly two people die of rabies every week. Rabies can be eradicated anywhere with the rabies vaccine and rabies education programs. The challenge resides in helping people do three things. First, vaccinate their dogs. Second, recognise rabies symptoms and signs in animals and bite victims. Third, take immediate action to provide proper rabies treatment for bite victims and infected animals. All of this seems easy enough in a world where we know that rabies is a fatal, but preventable disease, but the people of Haiti are mainly unaware that rabies even exists. They don't equate a dog bite to the cause of rabies symptoms, which resemble the flu, that may develop weeks later. Many people believe that those affected by rabies are under a curse; they turn to their primary religion, voodoo, to explain the severe neurological symptoms that develop with infection. It's equally important to understand that in their culture, dogs are not considered companion animals, as much as they are watchdogs. Dogs don't provide Haitians with a source of food, so their value isn't one that garners a high level of care. Children, however, love their dogs and take pride in spending time with them and caring for them.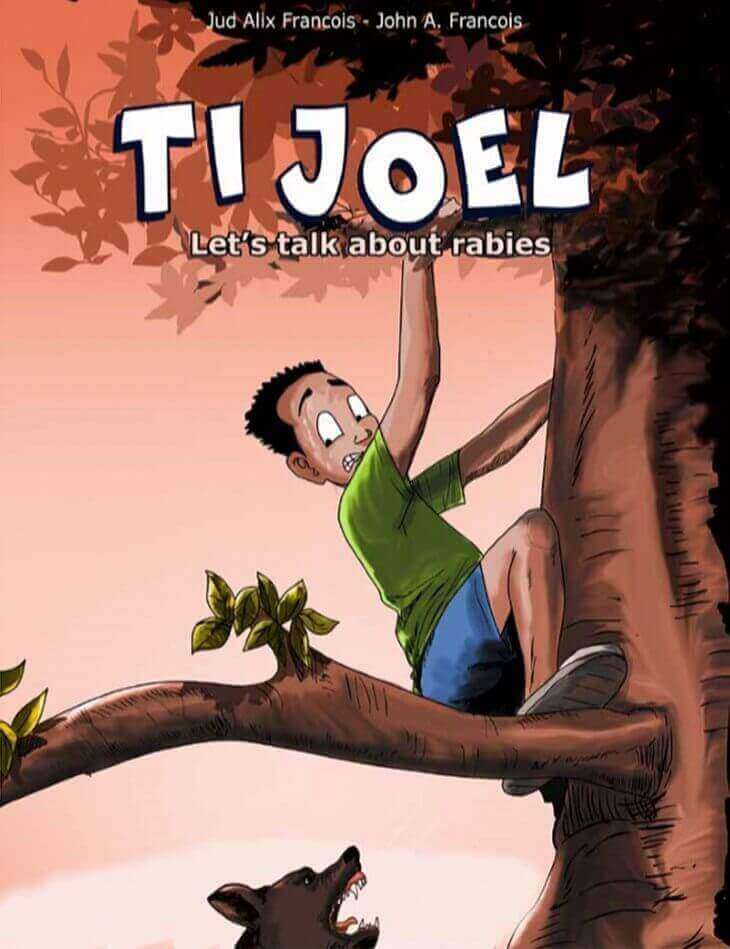 We started working with the CDC and the Christian Veterinary Mission on a program to reach out to the school children. The program is designed to distribute a Ti-Joël comic book that's written in Creole about rabies and lead a discussion with children that teaches them about the importance of caring for and treating dogs with love and respect. The comic book shares a story where an angry dog bites Ti-Joël. Ti-Joël learns how to clean the bite wound. As the story continues, Ti-Joël learns how to understand dog body language and behaviour. He also learns how to get along well with dogs. These are key messages we want to teach, reducing the number of bite injuries and helping people know what to do if bitten.
So far, 5000 comics have been distributed to schools in Haiti, along with lessons on dogs. As children learn more about dogs, learn not to fear them, but how to live with them, we are improving both animal and human welfare. Kelly Crowdis, Team Lead, DVM, Christian Veterinary Mission Fieldworker Haiti notes, "The children are so excited to receive the comic books and talk about dogs. Their eyes light up when they begin to understand how simple it is to care for the animals with the free rabies vaccinations that come into town. And they are very excited to take these messages home to their families. They love their dogs, and they take pride in caring for them."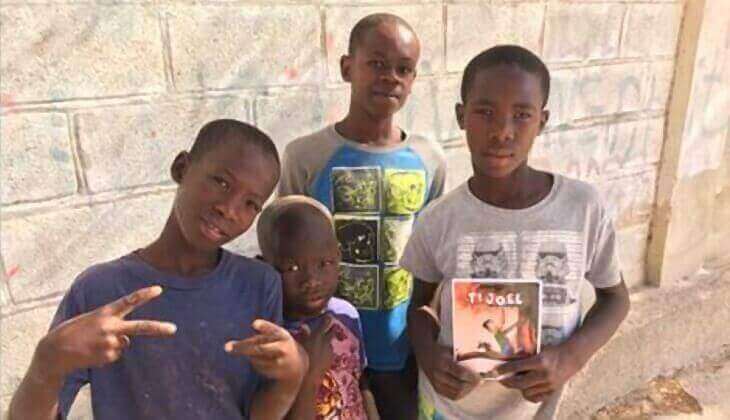 Several rabies vaccination campaigns have been initiated in Haiti in the last few years, but we still need to do more to ensure that the resources already invested are not wasted. Education is at the heart of what's required to help people in under-developed countries like Haiti understand the reality of rabies, especially the education of children. It is difficult to change the behaviour of adults—as they say, "habits die hard." But children are open to listening, learning, and evolving. And children, all around the world, are very good at affecting change in their parents.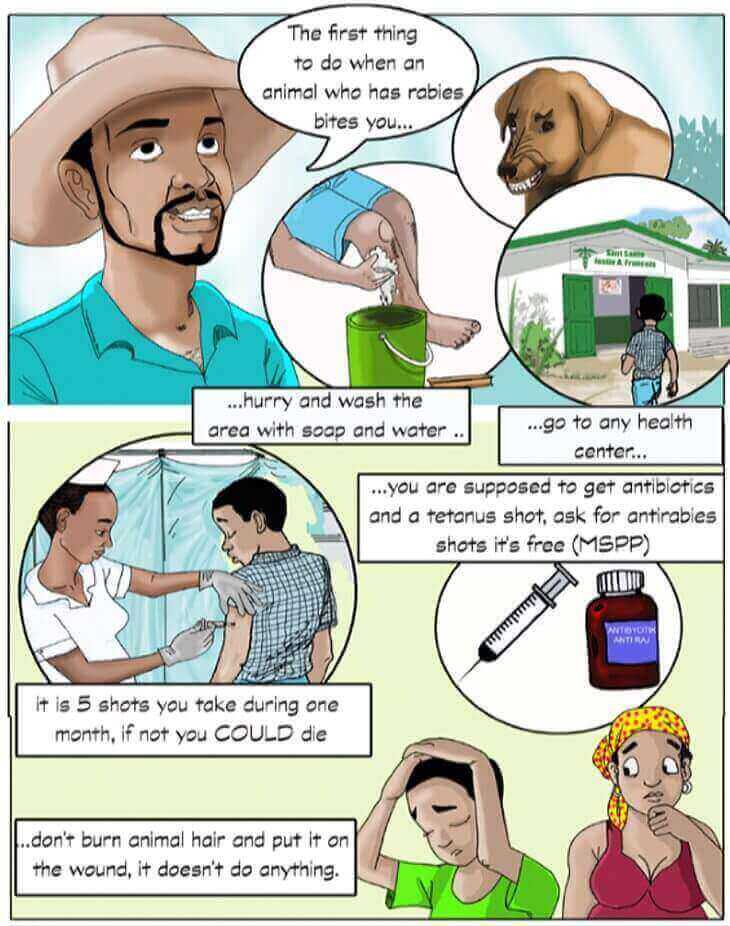 The first thing to do when an animal has rabies bites you… hurry and wash the area with soap and water… go to any health centre… you are supposed to get antibiotics and a tetanus shot, ask for antirabies shots it's free* (MSPP). It is 5 shots you take during one month, if not you COULD die… don't burn animal hair and put it on the wound, it doesn't do anything.
*This vaccination is free in Haiti but may not be in other parts of the world
RECOMMENDED
Learn about canine babesiosis, a tick-borne disease that affects dogs worldwide. Discover its symptoms, treatments, and how to prevent it.

Explore how diabetes impacts cats, its signs, risk factors, and effective management through medication and diet for a healthier feline life.

Diabetes affects an estimated 1 in 300 dogs, diabetes is more common in middle-aged and older dogs (4-14 years of age), it can be diagnosed in dogs of any age, including young dogs. Read more.